We have been coaching racers for about as long as modern one design racing has been in existence. We got our start as a finishing school for high level J/24 competitors in 1981. In the past three decades, we have built an extensive network of some of the best coaches within the sport of sailing. Wholly owned subsidiary J World Performance Sailing is supplemented by the comprehensive offerings of parent company Blue Element Yachting to provide a full suite of services to racers.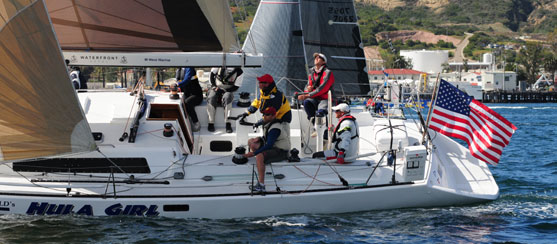 Our staff works with your team to outline your goals and help you attain them. Whether you want to hire professional sailors to get you around the course faster, or whether you want to bring in our top tier coaches to teach you to go it alone, we will structure a program that will deliver.
WHY BLUE ELEMENT COACHING SERVICES
It's easy to find good sailors. It's much more difficult to find good sailors who have the ability to communicate well and share their knowledge with others in ways that are conducive to understanding and learning that information. We are continually on the lookout for individuals who have this ability, and then we work with them to advance their coaching skills.
Our staff are not aboard to just help you win that one race. We aren't there to tune the boat for that one day, or to trim the sails perfectly for the one regatta. We are there to teach YOU and your team how to do it. This is a tremendously different approach than hiring a pro-tactician, or than having your sailmaker aboard.
We can join you for as little as a half day, of for a full season. Call us to discuss options. For a fraction of the cost of the new jib, you can find much more improvement!
Our coaches will come to you (we serve all of North America and beyond...) and can arrange sessions with you and/or your full team aboard your boat, OR you can come to us and sail aboard one of our fleet boats. Chances are, we have access to something largely similar to what you are racing.
Blue Element works with owners to assist in finding crew, and with full teams to advance skills and refine onboard workflow and communication. Interestingly, at the higher levels of coaching, we find that our job becomes less about how much backstay to carry and where to put the jib lead (most of the team has already figured that out) and more about communication team-building. The Team is an all too often neglected piece of onboard 'equipment,' and you might be very surprised on how much your performance can be improved by remembering some key factors.
Modern rigs are dynamic pieces of equipment. Sail technology has developed materials and shapes which are highly controllable. The net result is that we have a tremendous ability to manipulate the shapes of our airfoils like never before. In fact, the equipment at our fingertips as sailors these days has outrun the understanding that most sailors have of the usage! This is where we come in. We'll teach you what to look for in terms of tuning and sail shape, and then the process of how to get there.
If tuning has been an enigma to you, let us know. A rigger can dial your static tuning in at the dock, but you need a coach aboard to run thru the full tuning process for shifting gears on the water. Those boats at the front of the fleet? In most classes, they are changing rig setting every race.
We have a full time office staff in California and maintain three physical offices in North America. When you have questions, we are highly available and quick to respond.
When you are really ready to up your game but don't have the personal bandwidth to oversee a campaign (and devote the time to it which it deserves), Blue Element can assist. For more information about full management programs, visit here.

Contact Blue Element Yachting to discuss your goals. We enthusiastically welcome the opportunity to work with you to achieve them. Whether it is a one day coaching session or a multi-season campaign, we are the best option for advancing your racing program.